Cast Iron Medium to Heavy Duty Compressors
AMA Compressed Air Specialists Ltd continue to supply highly reliable compressors manufactured from the highest quality Cast Iron for efficiency and long wear.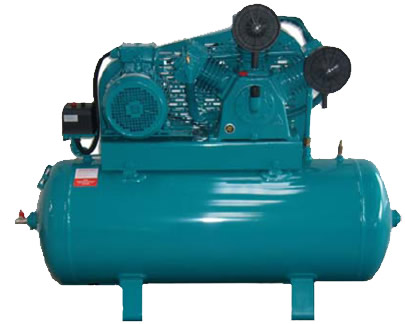 These compressors are custom British built to AMA Compressed Air Specialists Ltds' high quality standards, using high precision modern production methods.  The compressor is run by an industrial grade, reliable electric motor and the main characteristics which makes these compressors superior are:
Large Disc-Type Valves
Made from Swedish steel for high efficiency and long wear.
Long-Life Cylinders
Precision-machined cylinder walls are honed glass-smooth to reduce friction and wear to a minimum. Extra deep fins provide increased cooling and greater strength.

Rings
Long life industrial design compression and oil control rings are used to assure maximum performance.
Connecting Rods
Precision bored, industrial quality designed connecting rods with a splash lubrication.
Balanced Crankshafts
Made from a highly-tensile forged alloy steel precisely ground and dynamically balanced to ensure long life and smooth operation. The life of the bearings are extended by precisely ground journals.
Crankcase
Extra large with large oil reserve, assuring cool running and excellent lubrication.
Flywheel
Balanced fan flywheel with airfoil spokes, to provide a continuous powerful blast of cooling air for all parts of the compressor. The balancing assures a smooth operation with no vibrations. Quick cooling of the cylinder heads is achieved by the design of deep directional fins and compact streamlined air passages, allowing for a fast and efficient flow of intake air and rapid removal of discharge air.
Main Bearings
Only high quality ball bearings or tapered roller bearings are used which assure long life and easy maintenance.
Easy Oil Check
Located at a convenient position for a "tell at a glance check" of the oil level in the crankcase.
Belt Drive
Highly reliable belt drives are used to minimise machine downtime.
Automatic Stop/Start Functions
Large intake filter silencer, safety valve, pressure gauge, service valve and air receiver drain tap.
We are able to offer a wide catalogue of OEM products built to the customer's specific requirements on an individual basis. This provides scope to custom build compressors to suit emergency smoke vent systems and dual sub-base applications.
We can also offer cast iron compressors up to 5.5HP powered by 230v/1ph using an inverter drive system.