DenComp Compressors from AMA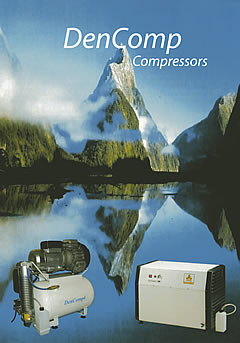 Drawing on 20 years experience in oil-less compressor technology, DenComp compressors are designed to provide today's demanding dental practice with clean, dry air coupled with simplicity, quality and reliability rarely found in today's market.
Central to this is the requirement that the air compressor must be unobtrusive, supplying high-quality air to the surgery, meeting the needs of hygiene for patients, and minimising contamination to instruments.
Providing the power to the surgery
Powered by an efficient, low-speed electric motor, the main advantage of the DenComp compressor pump is a traditional high quality crankshaft mated to precisely engineered skirted pistons and rings. This ensures long life, high performance and reliability with minimal specialist maintenance.
The precise balance of the multi-cylinder oil-less pump benefits smoothness, and low running speeds keep the noise levels of even the standard machines impressively low.
Finally, oversized cooling fans help to control the pump temperature, reducing wear and increasing air output.