Desiccant Air Dryers
Desiccant Air Dryers are suitable for critical dew-point applications, i.e. electronic, laboratory, medical, dental, food and applications susceptible to frost.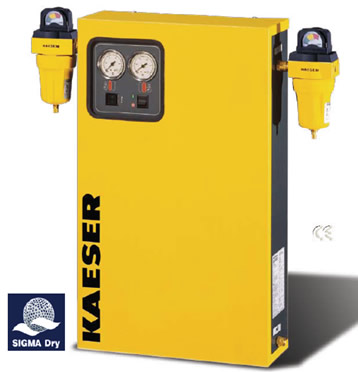 Made from activated aluminium oxide, the desiccant has an exceptionally high absorption capacity and its regeneration capability provides sustained low pressure dew point performance with minimal pressure loss. The desiccant is also waterproof and mechanically stable, which makes it particularly suitable for long periods of operation. Furthermore, specific pellet sizes are available to ensure optimal performance of flow diffusers and sieve plates.
Compact and reliable with space saving design and easy installation, small DC desiccant dryers from Kaeser provide outstanding performance and efficiency. They are constructed from components of the highest quality and sustain dependable low-pressure dew point performance even with continuous operation. As with all Kaeser desiccant dryers, compact DC units operate in long, energy-saving cycles that are gentle on components and consequently require little maintenance.
Furthermore, their high efficiency design ensures minimal purge air is required for desiccant regeneration. Compact DC desiccant dryers are ideal for decentralised air treatment applications where space is at a premium, as they can be simply mounted on the wall. They also provide the perfect solution for achieving the very low-pressure dew points required by the packaging and pharmaceutical industries for example, as well as for installations in containers and production of instrument air.