La-Man Extractor/Dryer
The La-Man Extractor/Dryer® is suitable for smaller applications, i.e. Plasma Cutters, wood-working machinery, paint spraying and applications where no electrical power is available.
La-Man® takes a different approach to cleaning up contaminated compressed airlines. Our Extractor/Dryer provides the best service when it is located at the point-of-use in an application. This allows the air from the compressor to cool, thus condensing to liquid and enabling the Extractor/Dryer to do its job. The shortest distance from our filter to the point-of-use ensures cleaner air, therefore protecting valuable machinery and equipment.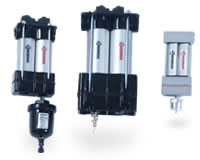 Features and Benefits:
Models range from 15 SCFM
Standard 5 micron ratings (lower micron rating available)
Removes 99% of the liquids entering the Extractor/Dryer
Easy to install and maintain without removal
Lightweight aluminium housing
Immediate cost savings from decreased downtime
Standard inlet and outlet NPT sizes
Improve equipment performance and product quality
Additional options available: float drain, regulator, lockout valve and electronic drain.