HPC-Kaesar Small Screw Compressors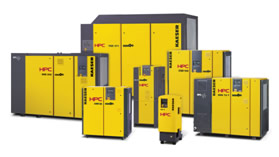 HPC has been at leader in the UK market for over 50 years and continues to be so. The distinctive "yellow-box" compressors have become a sign of quality and reliability. The British-German build quality, along with market-leading advances in energy saving technologies has pushed HPC to the forefront of the compressed air industry.
AMA Compressed Air Specialists Ltd are happy to promote HPC Compressed Air Systems and their products with confidence in their capability and reliability.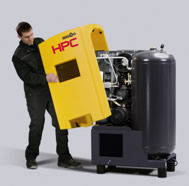 HPC 
offers modular screw compressor solutions incorporating the following features:
Energy saving EFF1 motors to IP55 and insulation class F fitted as standard
Energy saving frequency controlled variable speed drives are available
Quiet in operation
Low maintenance costs
Ability to operate at full load 24 hours a day, 7 days a week
Efficient cooling air flow system, including separate coolers for compressed air and fluid
Energy saving SIGMA PROFILE airend

AMA offer HPC Compressed Air solutions in numerous different formats and sizes to suit all customer needs.
The small screw compressor product range is suitable for Automotive Garages and Workshops, Small Factories (e.g. Joinery, Food, Packaging), etc.
SX Series - SX3, SX4, SX6, SX8 - 2.2kW to 5.5kW Screw Compressor
SX-T Series - SX3T, SX4T, SX6T, SX8T - 2.2kW to 5.5Kw Screw Compressor c/w Refrigerant Dryer
SX-RM Series - SX3RM, SX4RM, SX6RM, SX8RM - 2.2kW to 5.5kW Screw Compressor Air Receiver Mounted
SM Series - SM9, SM12, SM15 - 5.5kW to 9kW Screw Compressor
SM-T Series - SM9T, SM12T, SM15T - 5.5kW to 9kW Screw Compressor c/w Refrigerant Dryer
SX-RM Series - SM9RM, SM12RM, SM15RM - 5.5kW to 5.5kW Screw Compressor Air Receiver Mounted
Aircenter Series - Aircenter3, Aircenter4, Aircenter6, Aircenter8, Aircenter9, Aircenter12, Aircenter15, Aircenter21, Aircenter24 - 2.2kW to 15kW Screw Compressor c/w Refrigerant Dryer Air Receiver Mounted
SFC Series - SM12 & SK21 Compressor combinations can include sigma frequency controlled variable speed drive
SXC Series - SXC3, SXC4, SXC6, SXC8 - Compact Screw Compressor, Refrigerant Dryer and Air Receiver Set - Suitable for Automotive & Smaller Applications