HPC-Kaeser Vacuum Blowers from AMA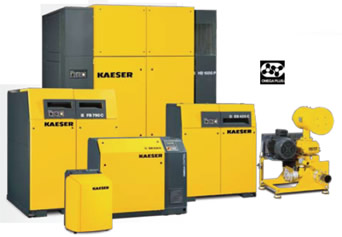 HPC-Kaeser have continued over the years to diversify and stretch their market share not only in compressed air but also in Rotary Vacuum Blowers.
Any size of blower can be used for applications up to 1000mbar(g).  This often avoids the issue of having to select a larger unit, which not only minimises investment costs, but running costs alos.  This is because smaller, faster running blocks are almost always more efficient than larger slower running blocks.  The faster speed means that the block is cooled more effectively by the conveying flow and consequently a) significantly prolongs service life and b) minimises the need for cooling when conveying heat sensitive materials.
Kaeser has developed specialised software to help customers and planning engineers to quickly determine the most appropriate and economical blower for any given application.
Kaeser Blowers are being utilised worldwide for a variety of applications, such as conveying powder and granulate material either by suction or blowing including nitrogen environments.  They are also supplied to a wide range of water management systems including aeration, clarifying equipment and return flushing filter systems.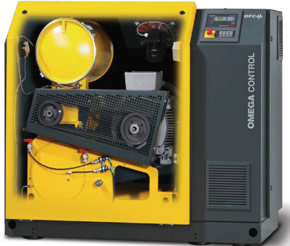 Various 
HPC-Kaeser
 vacuum blower solutions are available to suit any particular application incorporating the following features:
Energy saving EFF1 motors fitted as standard
Energy saving frequency controlled variable speed drives are available
Heavy duty cylinder roller bearings prolonging lifespan by up to ten times
Intelligent compact design allows ease of maintenance and low maintenance costs
Ability to operate at full load 24 hours a day, 7 days a week
Exceptional air intake design supplying higher flow capacity and lower energy demands
Omega Controller monitors all operational parameters and displays data in plain text
AMA offer HPC compressed blower solutions in numerous different formats and sizes to suit all customer needs.
The small blower product range is suitable for Small Factory conveying (e.g. Food, Granulates), Packaging, Milking Parlours, etc.
BB Series - BB52C, BB68C, BB88C - 7.5kW to 15kW Blowers
CB Series - CB110C, CB130C - 18.5kW to 30kW Blowers
The larger blower product range is suitable for Large Factory conveying and water management systems.
DB Series - DB165C - DB235C - 37kW to 45kW Blowers
EB Series - EB290C, EB420C - 75kW Blowers
FB Series - FB440C, FB620C, FB790C - 90kW to 110kW Blowers